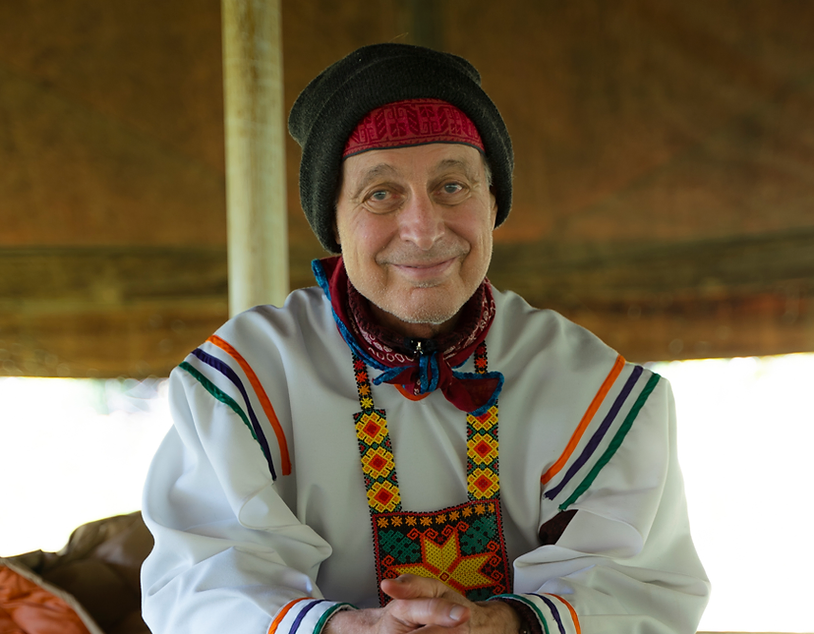 The Eliot Cowan Memorial Fund
Bring spiritual healing to the human heart
The Eliot Cowan Memorial Fund was created to serve as a tribute to remember, celebrate, and continue Eliot's life's work. Eliot was a visionary in the spiritual and healing world, author and teacher of Plant Spirit Medicine, Founder of Blue Deer Center and the Huichol Art Project. As a tsaurirrakame-mara'akame and elder in the Wixárika (Huichol) tradition he was given the name Waviekame which translates to "He who comes when people pray for a good life."
His passion was to bring spiritual healing to the human heart – and he did for so many people, including many of you who are reading this.
In his quiet way he was a pioneer and force for bringing the traditional ways of living and healing to many people. This memorial fund will make sure his work and vision continues at Blue Deer Center by:
Ensuring the expansion of traditional wisdom programs for spiritual healing and transformation,
Enhancing the stewardship of the sacred land at Blue Deer,
Creating a Plant Spirit Medicine online course to reach people around the world,
Offering scholarships to disadvantaged groups to all of our programs,
Improving our facilities with a fire pavilion and campground,
Expanding the Huichol Art Project to provide greater support to the Huichol communities in Mexico
Your generosity will help bring Eliot's vision to fruition.
Would you continue Eliot's legacy – and your own legacy – by giving a gift to the Eliot Cowan Memorial Fund today?
A Modern Way to Access Ancient Wisdom
In ancient times we used to gather around the fire, where we connected with each other and received guidance. The deep medicines of sacred places and plant spirits helped us with health concerns. Animal spirits befriended us. Wise elders advised us. When loved ones left this world they were escorted to the place of our ancestors.
Today we have material comforts and advantages not available before, yet we often find ourselves feeling alone, estranged from the natural world, longing for relationship, experiencing health concerns and wondering about our life's purpose.
Eliot Cowan made the wisdom and healing of the old ways available to us. Now, the legacy of his wisdom and healing continues on at his center, Blue Deer Center and around the world with his students and apprentices that have become PSM healers and initiated mara 'akames.
Opportunities for healing and support